Frank Pabst
Executive Chef
One of Canada's most accomplished chefs, Frank Pabst's disciplined technique—earned in some of Europe's finest kitchens—is matched to the West Coast's abundant harvest of seafood.
Widely recognized for his creative impetus and leadership in responsible seafood practices, today Pabst leads Blue Water Cafe's brigade of expert chefs in what has been called "one of North America's finest seafood restaurants."
Chef Pabst enjoyed positions in Michelin-starred restaurants throughout Germany and France, including La Becasse (Aachen), the Hotel Negresco (Cannes) and Restaurant de Bacon (Antibes).
Directing the kitchens at Blue Water Cafe since 2003, Pabst has consistently demonstrated excellence, both in the procurement of impeccably fresh, sustainable seafood (Blue Water Cafe is a founding member of the Vancouver Aquarium's Ocean Wise program) and in the execution of its cookery, showcasing his trademark cooking ethic of "complexity without complication."
Culinary Arts Recipient
City of Vancouver Mayor's Arts Award, 2010
Chef of the Year
Vancouver Magazine Restaurant Awards, 2010
BC Restaurant Hall of Fame, 2010
Vancouver Culinary Champion
Olympic Gold Medal Plates, 2008
Chef of the Year
Georgia Straight Golden Plate Awards, 2008
Jean-Pierre Sanchez
Pastry Chef
Jean-Pierre holds both his Professional Apprentice Certificate and Masters degree as chef de pâtisserie, accredited after many years of apprenticeship and professional development in his native France.
He held the position of pâtissier for 11 years in Le Cours Mazan and Bornes les Mimosas in France. He worked with Gerard Moyne Bressand in Nimes, and subsequently as Executive Pastry Chef in a number of world-class properties, including the Michelin-rated Chewton Glen Hotel in Hampshire and the Grosvenor House Hotel in London.
At the helm of Blue Water Cafe's pastry kitchen since 2005, Jean-Pierre's desserts, breads, chocolates and petits fours are all made fresh daily.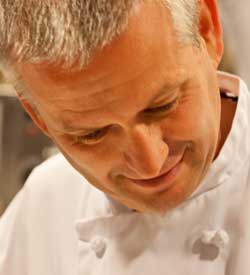 Masaaki 'Masa' Kudo
Sushi Chef
Masa has served two tours of duty at Blue Water Cafe's Raw Bar, rejoining the team in 2012 after working as head chef at the critically acclaimed Lime on Vancouver's Commercial Drive. Scrupulously trained in Kyoto for more than a decade, Masa joined Tojo's in 2002 where he worked alongside the master for four years. After 26 years of working as one of the city's most acclaimed sushi chefs, Masa says, "It is the happiness of my guests that drives me forward. I strive to become more creative and teach my staff how to attain perfection. I am still learning as a sushi chef."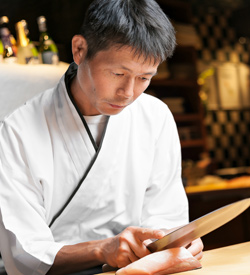 Raimund Heuser
Chef de Cuisine
Raimund Heuser's career follows a globetrotting collection of culinary destinations that has taken him around the world and back with leading kitchens in New Zealand, Switzerland, and Germany. With an apprenticeship at the famed Hotel Adlon in Berlin and training with Michelin-starred restaurants, these iconic establishments have shaped his style and creativity on the plate, and his passion as an ambassador for sustainable seafood.
As the Chef de Cuisine at Blue Water Cafe, Raimund oversees the city's
superlative seafood restaurant with Executive Chef Frank Pabst to set the direction of the ever-changing menus and various promotions that showcase the bounty of the sea.
When Raimund is not behind the Blue Water stoves, he can be most likely found scuba diving off local shores and appreciating the beauty of this underwater world. He's as natural in the water as he is with supervising the kitchen's brigade in pursuit of culinary excellence.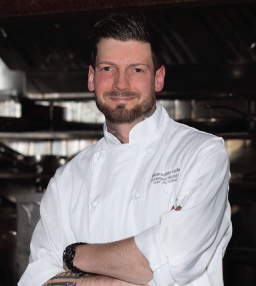 Stephan Cachard
Restaurant Director
Steeped in the culinary traditions of his native France, Stephan Cachard's sense of true hospitality is instilled in his service team, who maintain the standard of excellence synonymous with Blue Water Cafe.
A graduate of one of France's top catering schools, "the Osny", Stephan's resume travels through some of the world's finest properties including Michelin-starred restaurants, luxury hotels and exclusive private clubs of Paris and London. At the helm of Blue Water Cafe since 2002, Stephan is dedicated to every detail, ultimately creating a memorable dining experience for each of his guests.
Adrien Boutet
Restaurant Manager
Adrien brings to Blue Water Cafe a formidable résumé, formed in leading restaurants in France, England, Australia and the U.S.
Beginning with his degree from CFA St. Michel Mont Mercure hospitality college, Adrien has worked at La Bastide Saint Antoine, Grasses and Hôtel du Palais, Biarritz in France, amongst others, and at Vue de Monde in Melbourne, one of Australia's finest restaurants. He was also a service leader at Joël, the James Beard award-winning restaurant in Atlanta, Georgia, also at Morton's Private member club in London, England.
Adrien joined the Blue Water Cafe service brigade in 2013, and has quickly made many friends among colleagues and guests. He is inspired by the art of hospitality that Blue Water espouses: "Every day is different," he says, "and that is why it is so interesting. It's all about sharing the moment with the people you love."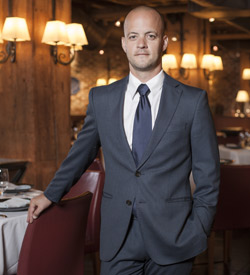 William Mulholland
Wine Director
Toronto-born William Mullholland enjoys a storied resume. He originally set out to pursue a career in Civil and Human Rights Law following study at the University of North Texas but switched paths a dozen years ago to train in the world of wine. He currently holds Court of Master Sommelier accreditation (Levels I + II).
William was further schooled at several leading restaurants in Texas before returning to Canada. He worked at Montreal's famed Rosalie restaurant, and then at Vancouver's Le Crocodile. He joined Blue Water Cafe five years ago. An astronomy buff, William enjoys hosting telescope parties at the beach with fellow staff members. His passion for service is inspired by "my love for food, wine, culture and history – and hospitality," he adds. "It's all about making memories that will last a lifetime, on birthdays, anniversaries, or just because."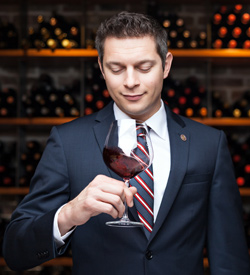 Luke McInnes
Bar Manager
Luke joined the Blue Water brigade in 2015 following world-wide travels from his native Sydney, Australia through Melbourne and Scandinavia, and finally arriving in Vancouver. He is both a certified Bar Coach and Instructor, finalist in the Scandinavian Bar Wars Competition, and winner of the 2013 BOLS Mixology Competition.
Luke has worked in Melbourne's Marquee Nightclub and Platform 3, before joining Norway's Metro Nightclub as General Manager, and Sinco Group, where he was Operational Manager for two years.
Luke's enthusiasm is infectious, and he enjoys displaying his cocktail talents to his local regulars as well as international guests. "Of course our whisky and white spirits selection and extraordinary wine list are a pleasure to work with too," he says. "It's really a true wealth of choices!"