Frank Pabst
Executive Chef
One of Canada's most accomplished chefs, Frank Pabst's disciplined technique—earned in some of Europe's finest kitchens—is matched to the West Coast's abundant harvest of seafood.
Widely recognized for his creative impetus and leadership in responsible seafood practices, today Pabst leads Blue Water Cafe's brigade of expert chefs in what has been called "one of North America's finest seafood restaurants."
Chef Pabst enjoyed positions in Michelin-starred restaurants throughout Germany and France, including La Becasse (Aachen), the Hotel Negresco (Cannes) and Restaurant de Bacon (Antibes).
Directing the kitchens at Blue Water Cafe since 2003, Pabst has consistently demonstrated excellence, both in the procurement of impeccably fresh, sustainable seafood (Blue Water Cafe is a founding member of the Vancouver Aquarium's Ocean Wise program) and in the execution of its cookery, showcasing his trademark cooking ethic of "complexity without complication."
Culinary Arts Recipient
City of Vancouver Mayor's Arts Award, 2010
Chef of the Year
Vancouver Magazine Restaurant Awards, 2010
BC Restaurant Hall of Fame, 2010
Vancouver Culinary Champion
Olympic Gold Medal Plates, 2008
Chef of the Year
Georgia Straight Golden Plate Awards, 2008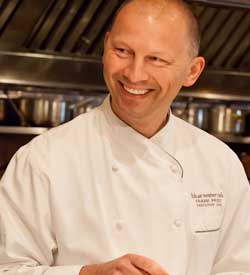 Yoshiya Maruyama
Raw Bar Chef
Yoshiya's culinary resumé is studded with some of the finest sushi and traditional Japanese restaurants in his native Japan and Vancouver. A native of Yokohama, Yoshiya undertook his apprenticeship at Tokyo's Sushi Kagetsu for seven years before serving as assistant chef at Ecchu. Working in close partnership with Executive Chef Frank Pabst, Yoshiya is true to the Japanese culinary aesthetic of pure, clean flavours.
Fastidious with his preparation and presentation techniques, Yoshiya also focuses on the sourcing of the freshest seafood products. "In the realm of sushi," he says, "there is simply no hiding—my craft is about my need for perfection."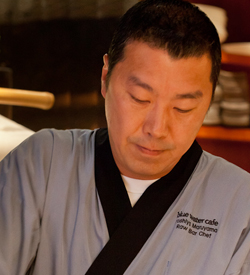 Jean-Pierre Sanchez
Pastry Chef
Jean-Pierre holds both his Professional Apprentice Certificate and Masters degree as chef de pâtisserie, accredited after many years of apprenticeship and professional development in his native France.
He held the position of pâtissier for 11 years in Le Cours Mazan and Bornes les Mimosas in France. He worked with Gerard Moyne Bressand in Nimes, and subsequently as Executive Pastry Chef in a number of world-class properties, including the Michelin-rated Chewton Glen Hotel in Hampshire and the Grosvenor House Hotel in London.
At the helm of Blue Water Cafe's pastry kitchen since 2005, Jean-Pierre's desserts, breads, chocolates and petits fours are all made fresh daily.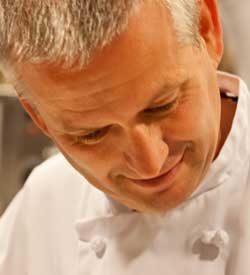 Stephan Cachard
Restaurant Director
Steeped in the culinary traditions of his native France, Stephan Cachard's sense of true hospitality is instilled in his service team, who maintain the standard of excellence synonymous with Blue Water Cafe.
A graduate of one of France's top catering schools, "the Osny", Stephan's resumé travels through some of the world's finest properties including Michelin-starred restaurants, luxury hotels and exclusive private clubs of Paris and London. At the helm of Blue Water Cafe since 2002, Stephan is dedicated to every detail, ultimately creating a memorable dining experience for each of his guests.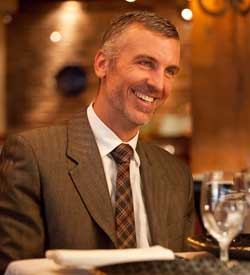 Benjamin Wristen
Restaurant Manager
Prior to joining the team at Blue Water Cafe, Benjamin worked at sister restaurant CinCin Ristorante as Restaurant Manager from 2012 through until Spring 2014. And before that, his vast experience working at leading Lower Mainland restaurants in management capacities was where he developed an infectious passion and enthusiasm for hospitality.
With a keen eye for detail, Benjamin works closely with his fellow team members to plan the evening's service. "Our guests inspire me," he says. "They are from all over the world and I'm happiest when they are enjoying themselves—I love creating a memorable dining experience and I'm thrilled to have the opportunity to continue to exceed the expectations of guests at Blue Water Cafe."